QRIO Robot By Sony (Cool Amazing Video)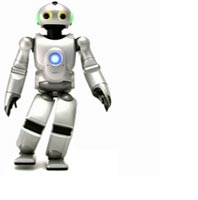 QRIO Robot From Sony
This certainly ranks up there with one of the more far-out things I've seen take place in technology. These little Sony robots are COOL and very nimble.
Check out this video and you will see what I mean.
Those are ROBOTS dancing! From the looks of it they're at most 3 feet tall and just amazing (well... at least I think it's pretty cool, but I am a bit of a dork).
Here's more videos
on these cute… and … somewhat ominous robots. You'll need Realplayer to watch these - OR - you can download and install
Real Alternative
- a player and codec that lets you watch Realplayer videos without having to install all of the crapware that typically comes slithering along with the actual Realplayer.
Check out Real Alternative HERE.
If the server is down, you can try going direct to the developer.
It's developed by these guys HERE.
Posted by Hello